Neglect
Enabler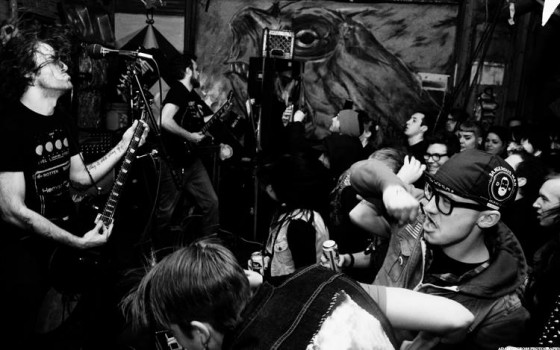 Enabler - Neglect
Milwaukee hardcore troupe Enabler recently released a follow-up to their blistering debut album 'All Hail The Void', entitled 'La Fin Absolue Du Monde' which translates as 'The Absolute End Of The World'.
While the title and the bands previous work might point to fairly nihilist outlook, between gritty hardcore breakdowns and a suitably pulverizing percussive accompaniment, there's an added air of poignancy perceptible through the band's nuanced use of melody and ardent lyrical delivery.
---
You Are A Comet, You Are On Fire
USA Out Of Vietnam
USA Out Of Vietnam - You Are A Comet, You Are On Fire
Aurora Borealis signings and natives of Montreal, The USA Out Of Vietnam recently released a new five track album entitled 'Crashing Diseases and Incurable Airplanes'. 
Proving they're no strangers to musical juxtaposition, 'Crashing Diseases…' sees the band contrasting sounds that range from hefy sludge rock riffage and shimmering blissful ambiance to joyous prog rock experimentalism. 
Despite the wealth of ideas observable throughout 'Crashing Diseases…' the tracks never appear cluttered, the ample song lengths allowing the numerous changes in direction to be executed in a way that's both cohesive and incredibly captivating.
---
Half-Speed Addict Starts with Broken Wollensak
Hiss Tracts
Hiss Tracts - Half-Speed Addict Starts with Broken Wollensak
Given that their line-up includes members who have served time in Godspeed You! Black Emperor, Set Fire To Flames, Growing and Total Life, I was already intrigued by what direction the experimental drone duo, Hiss Tracts,  might take on their debut album 'Shortwave Nights'.
Recorded over the course of almost six years with some material being drawn from rehearsal sessions that originally took place in 2008, 'Shortwave Nights'  unites dissonant field recordings, fragmented guitar lines, mellotrons and assorted samples to create several aurally dense yet deeply engaging compositions.
---
Entity
Inventions
Inventions - Entity
Formed in 2013 as an alternate musical outlet for Eluvium's Matthew Cooper and Explosion in the Sky guitarist, Mark T. Smith, who are both currently signed to Temporary Residence. Inventions create sweepingly beautiful, introspective songs that capture elements of both artists main projects whilst introducing new elements into the mix.
Their debut self titled album, constrasts lush shimmering melodies with gently propulsive rhythms overlaying keyboard chimes, piano/organ chords, mysterious samples, wordless vocals and to create an expansive, buoyant musical vision.
---
Long Still
Ekin Fil
Ekin Fil - Long Still
Whilst she may have begun recording back in 2008, Ekin Fil's steady rise to prominence within the underground Turkish music scene has seen her music picked up by labels such as Root Strata and Exotic Pylon, garnered comparisons to the likes of Grouper, Jessica Bailiff and Roy Montgomery.
Forged from heavily distorted organs, noisy electronics, haunting synthesizer tremors and abstract vocals, Her latest record Reds, bears as much resemblence to moody widescreen drone as it does blackened, filled lo-fi ambience. Wile the underlying sentiment might be melancholic the contrasting elements, textures and musical exection is nothing short of gripping.
---
Ebb
Julia Kent
Julia Kent - Ebb
Recently seen as part of William Basinski's excellent Arcadia series which was hosted at various venues across London, New York cellist Julia Kent's thought provoking evocations were an excellent example of just how expressive an instrument the cello can be.
On her 2013 album 'Character' Kent's playing and composition is brilliantly combined into a deeply expressive, beautiful vision which is both rich in both musical and emotional timbre.
---
II
Marsen Jules
Marsen Jules - II
Released earlier this year on Oktaf records, Beautyfear, the latest record by the German electronic music producer Marsen Jules, may just be one of his most fully realized works yet.
Dealing equally in surging waves of ambiance and moody underwater experimentalism, Beautyfear never allows itself to settle into a singular monotonous vision, as it moves between moods that range from blissful, hopeful and uplifting to sombre and brooding.
---
Specters
Kimono
Kimono - Specters
After their intriguing excursion into lengthy jazz influenced territory on the 2012 Aquarium EP, earlier this month the Icelandic experimental rock group posted a new single entitled 'Specters'.
Closer in sound to their last full length album 'Easy Music for Difficult People', on 'Specters'the band opt for a more succint running duration of just over four minutes whilst combining the bands early fragmented post-hardcore tension with a harmonious refrains and anxious lyricism. 
---
Rhetoric of No
Indian
Indian - Rhetoric of No
In January the Chicago blackened noise troupe known as Indian, released their fifth album 'From All Purity'.
From the opening distortion ridden riffs of 'Rape', it's clear that the band have lost none of their ability to craft some of the most bleak, nihilistic sounding music around. Alongside their familiar low-end heavy doom, the band also employ buzzing power electronics creating additional space for Dylan O'Toole and former Wolves in the Throne Room guitarist Will Lindsay's harsh blackened rasps.  
---
---